Polychrome Painted Panel Gilt Leather Screen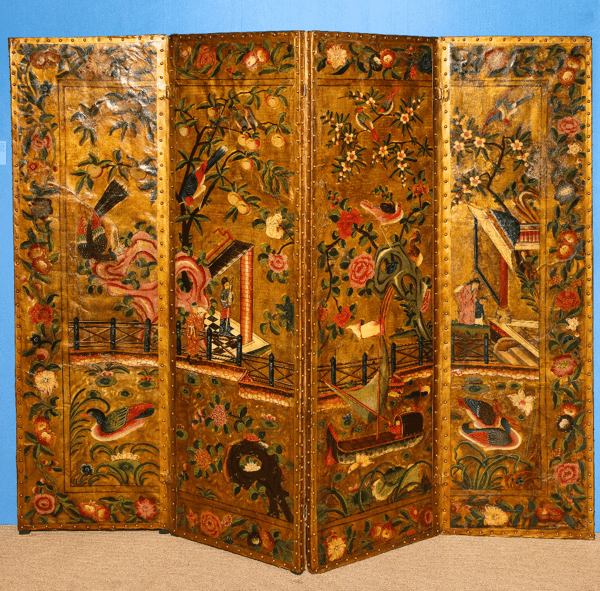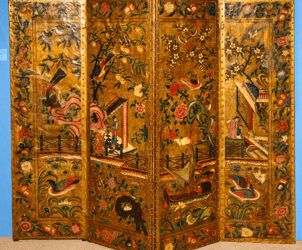 Fine George II Polychrome Four Panel Gilt Leather Screen, painted in oil on a stamped gilt ground, having figures and pavilions with a boat and flora and fauna in a watery landscape with a colorful floral border. English circa 1750

Height 72" Width 7'3" (87")
Each panel height 72" 21" 3/4
Polychrome Painted Panel Gilt Leather Screen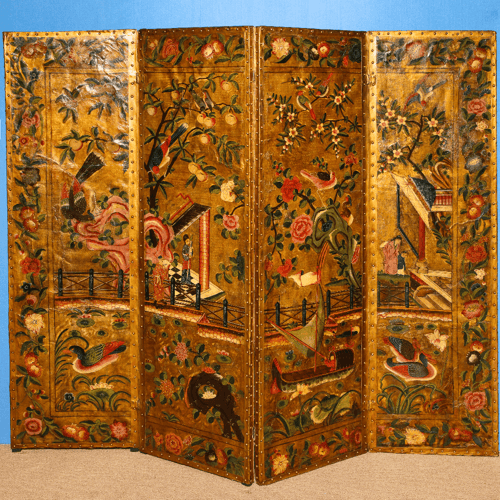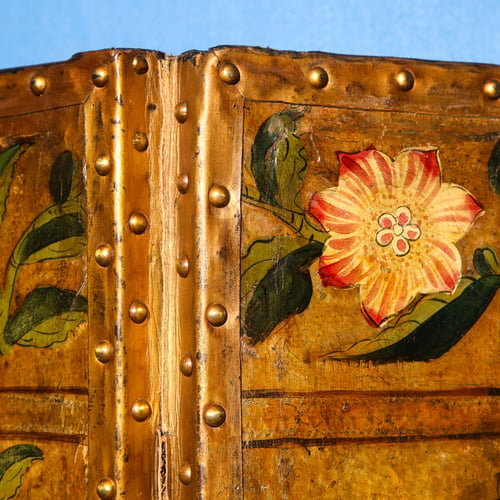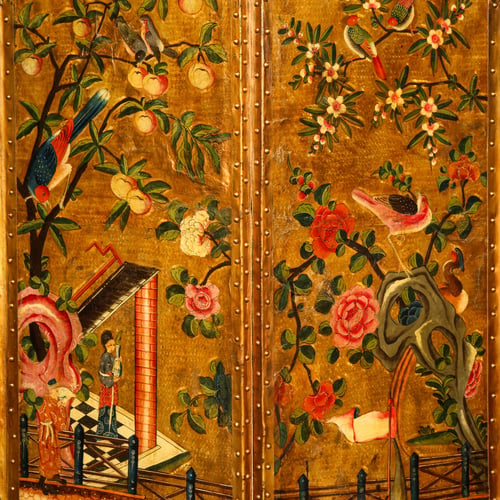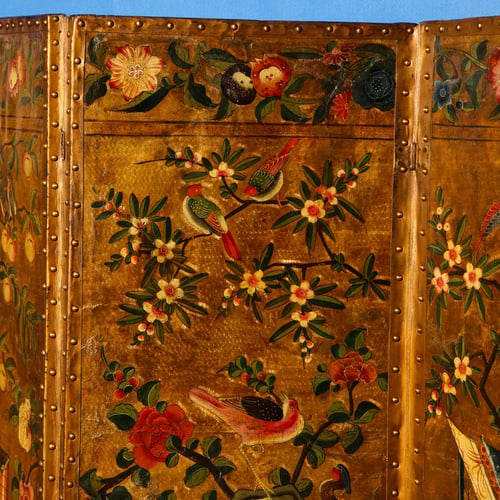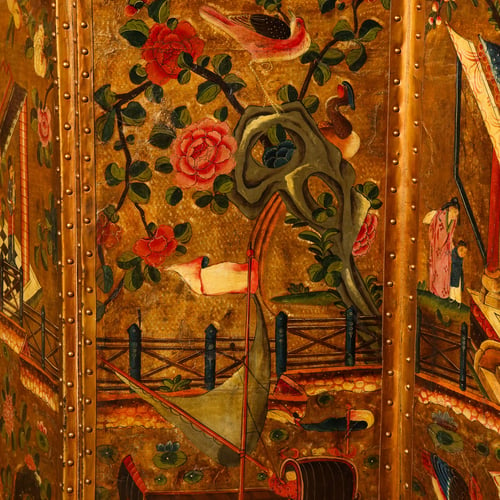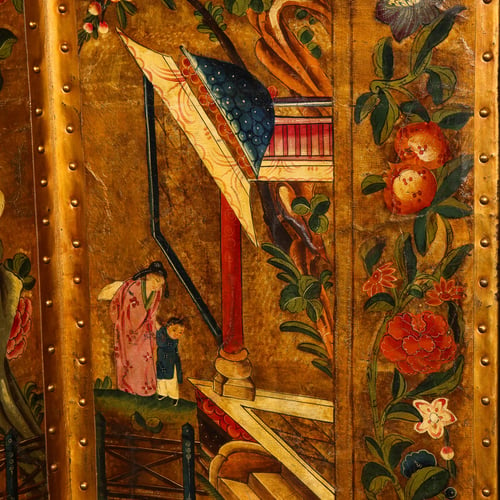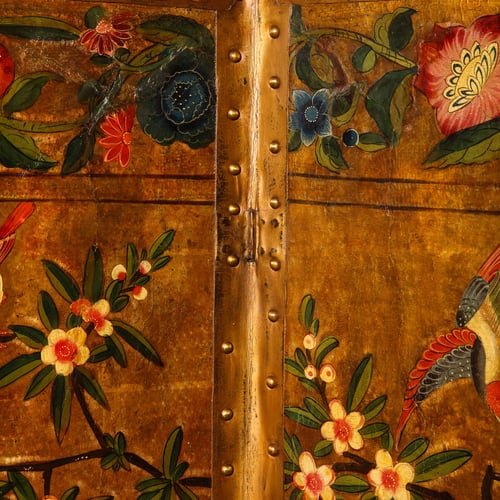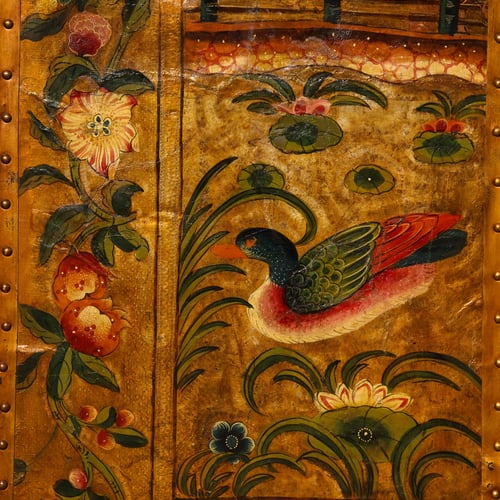 "Still Life with Pitcher and Fruit," oil on canvas by Edward Barnard Lintott, (British 1875-1951) Signed "Lintott" lower right. Edward Lintott's work is in the permanent collections of The Louvre, The Tate, The British Museum, The Metropolitan Museum of Art and The Brooklyn Museum.
Painting: Height: 19 1/4" Width: 23 3/4"
Frame: Height:26 1/2" Width:30 1/4
Edward Barnard Lintott studied art at the Academie Julian, Paris under Jean Paul Laurens and Benjamin Constant, and at the Ecole des Beaux Arts under M.E. Cuyer. His work is represented in 16 museums among them The Louvre, The British Museum Tate Gallery, Victoria & Albert Museum, Ghent Museum, The Metropolitan Museum & The Brooklyn Museum.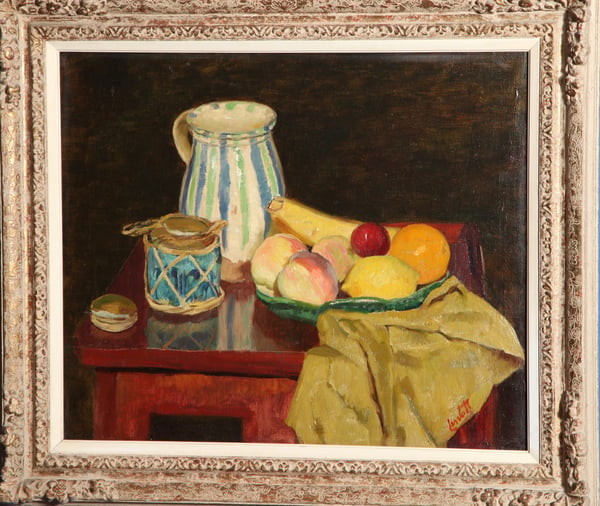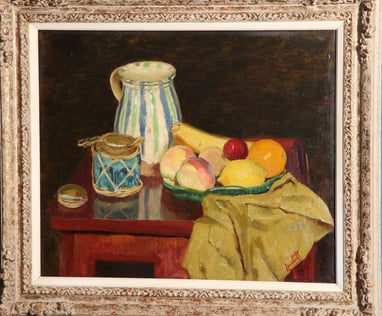 "Still Life with Roses in a Porcelain Vase", Oil on canvas, by Einar Hugo Olsen, (Danish1876-1950), initialed with monogram and dated "E. 1933 O." lower right, in a carved and gilt wood frame. Olsen was born in Copenhagen and studied at the Kunstakademiet under F. Vermehren, Otto Bache, and Frants Henningsen, He is known for his impressionistic still lifes and landscapes.
Height: 29 1/2" Width: 25 1/2" Frame Height: 36 1/2" Width: 32 1/2"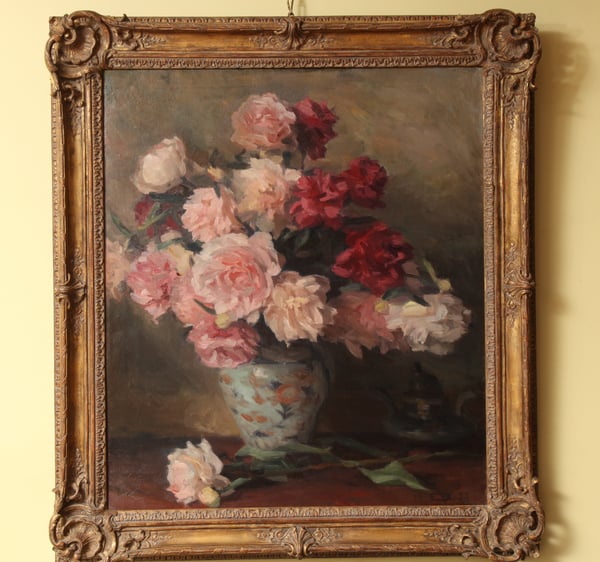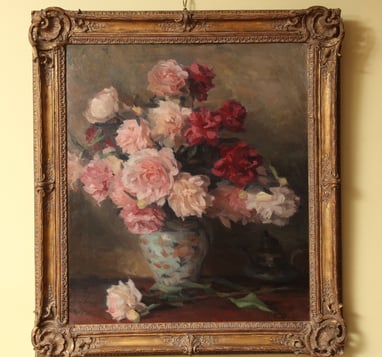 large Early 18th century carved wood store figure
Extremely Rare & Exceptionally Fine Early 18th century Sculpted Wood Polychrome Store Figure of a Man in Period Costume, having a solid lead tricorn hat and wearing a red coat with blue waistcoat and a prominent white sash tied at the neck and a blue and white sash tied and held at his waist, wearing breeches and white stockings with black buckled shoes and supported on a solid cork two section base. English circa 1720
Height: 41" Width: 15" Depth: 13"
Provenance: Alastair Sampson Antiques, London, Grosvenor House Fair 1988, Illustrated in catalog color plate 121.